The FACE© program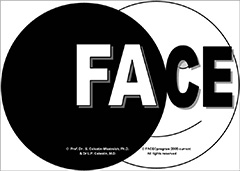 The activities of the FACE Centre draw on the FACE© program (for : Facilitating Adjustment of Cognition and Emotion).
The FACE© program aims at facilitating the adjustment of thinking, feeling and acting as a means of reinforcing resilience in the face of diverse sources of stress and risks of burnout in personal, professional, parenting or family areas.
The FACE Centre thus provides different services formats depending on clients' needs and requests (such as psycho-education, analysis, cognitive and behavioral therapy, brief therapy, coaching, professional orientation, parenting and emotion training).
The services include general as well as specialized consultations with adults and with youngsters, such as with regard to stress relating to:
depression, anxiety, bipolar disorders
hyperactivity, impulsivity, attention problems, ADHD, learning and school problems
trauma, life events, accidents
professional burnout, harrassment, or orientation issues
chronic fatigue
sexuality and gender identity

eating problems and psychomatic complaints

partner and family issues

parenting and children

personal development